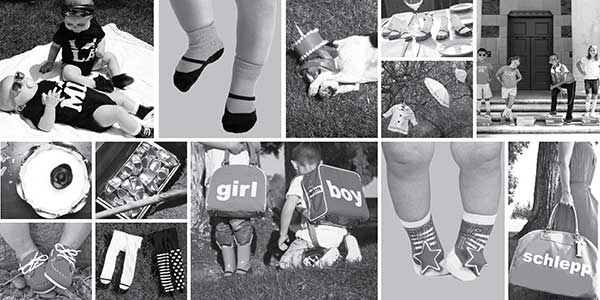 OUR STORY
Jon Stevenson discovered his inspiration for Trumpette when he adopted son, Nicky. After more than a decade in San Francisco's men's fashion industry, it became clear to Jon that there was a imminent need for luxury children's apparel. Quick to change this, Jon began designing onesies for Nicky to wear. Upon receiving many compliments about "What a cute little girl" he had, Jon then designed a onesie with the word "BOY" boldly silkscreened across the front, to avoid any further confusion. This brought to life the visually captivating and tongue in cheek style that is Trumpette's signature.
Jon and Nicky moved to Petaluma, where life was less hectic. Once again inspired by change, Jon hatched Trumpette's signature "Perfect Little Dozen", twelve socks packaged in an egg carton (fitting that Petaluma is the chicken capital of the world). With the success of the "Perfect Little Dozen", Jon continued designing socks that broke the monotonous industry standard of "cute".
A subsequent move to Sacramento allowed Trumpette to grow and flourish into what it is today; the authority on chic and contemporary children's apparel and accessories.
Now celebrating over twenty years of un-paralleled baby fashion, what better way to do it than with the re-release of the look Trumpette made famous – the Original Maryjanes. A testament to Trumpette's unrivaled quality and originality, there's no confusing these socks with competitors' versions.
Still going strong and building a bigger and better line of high end baby socks, gifts and apparel, our dedicated customers can now find Trumpette products in department stores such as Nordstroms and Bloomingdales, and high end boutiques all around the world.
Trumpette is about contemporary designs that are innovative, unique, and well-constructed.
Whether you're giving our baby gifts to your own little one or to a friend, I know you will enjoy what we have dreamt up.